For a while, I just didn't "get" the Salesforce Success Community. Other admins talked about it, and I knew how to vote for ideas… but I never really took the time to explore everything that it had to offer. And then one day I was hunting for an answer, I stumbled upon some hilarious Chatter conversations, and something just clicked in my head. What had I been missing out on? Over the past year, I've become more involved – and as a result, I've found answers to every question I could come up with, I've connected with some incredibly talented and inspiring people that I have loads in common with – who I hope to meet at Dreamforce! – and, finally, I get it.
If you are new to the Success Community, it can appear quite daunting. The UI is wonderfully intuitive, but many of us – yes, myself included – have been unsure of the best way to start using the Community to our advantage, or how to simply jump in. If that's you, then keep reading!
Understand how you are connecting. A good place to start is to make sure you know how Community profiles work. When you log into the Success Community, you log in with your Salesforce.com credentials. As time passes and you change jobs, your Community profiles will start to stack up – a new one exists for every Salesforce login you have ever had! I just searched my own name, and this happened: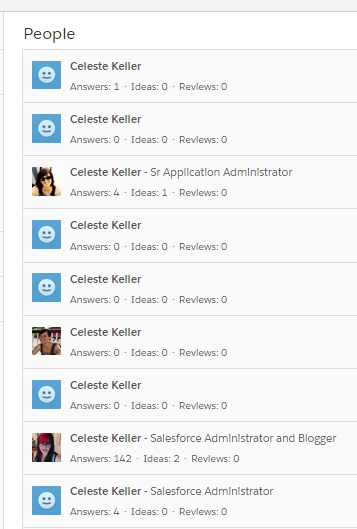 Yes. Those are all me.
If you have your own dev org – usually set up with personal credentials that you will keep – you can also log into the Community using that login. That's my personal choice, just so I can keep all of my interactions in the same place.
Also, keep in mind that when you first log in, if you are already logged into a Salesforce org (for instance, while you are at work), that is the Community login that you will be using. It's easy to accidentally log in with the profile that you didn't intend to use.
There has been a lot of user frustration over time because of the inability to merge Community profiles – there is also an idea for this feature that you can promote here. But if you think about it, it makes sense. Each of our Community profiles is a User record in Salesforce's own org (much like partner portal users, if you've ever dealt with those). Users can never be merged or deactivated, so this is probably why it is such an issue.
Update your profile. Once you are logged in with the Salesforce account of your choice, click on the arrow next to your picture (or the smiley face if you have no picture) in the upper right corner, then click on your name. This is where you can upload a picture, and edit your profile. You can determine the visibility of your profile info, sharing it with Employees (other users within your Salesforce org), External (your org's Partner or Community Users), or Public (all Success Community Users). Note: Your name and the About Me section are always publicly visible.

Join Chatter Groups. Groups are a great way to instantly connect with like-minded people and get involved. Click on the Collaboration tab at the top of the page, then click Groups in the left-hand navigation menu. It will default to your recently viewed groups. Click Active Groups for a complete list of available groups. To find a specific group, start typing a group name in the search bar. In your search results, there will be a "Join" link to the right of each group name. If you are on a group page, the "Join" link will be in the upper right. Hint: Most of the groups which are managed by Salesforce begin with "Official," so if you aren't sure what to search for in Groups, try that first!
Most groups will have a description and additional info on the left-hand side of the group page. The center area will list all posts to that group.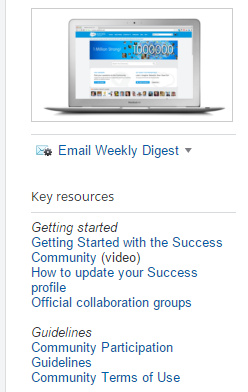 The first group that I recommend you join is the Official: Success Community Corner group (pictured above). If you want more detailed info after reading this blog post, go to that group and click on all of the Key Resources listed – they have far more information than I am covering right now!
Join your local User Group. Click the User Groups tab at the top of the page, and you will see an alphabetized list of local user groups (there are also several user groups by vertical). If there is not a user group in your area, you can start one!
Tailor your Feed so that it makes you happy. This is a continuous effort for me. I follow and unfollow other Users, and join and leave Groups, on a somewhat regular basis. I will often follow someone or join a group based on a couple of interesting posts, but over time those posts may not be relevant to me. These changes are easy to make with one click (hover over a user or group name and the option will be there), so follow/unfollow until your feed is showing you the stuff you want!
Don't spam. EVER. The Success Community is not the place to try to sell products or solicit donations. Just don't do it. Go spam people with Marketing email blasts, like everyone else does. (My Marketo admin is going to punish me for saying that…)
If you have a blog, join the Blog Group and share your posts there. It is also considered appropriate to share blog posts in groups that the subject matter is relevant to – for instance, a blog post on the Process Builder could be shared with the Salesforce Workflow Automation Group.
And please do share anything Salesforce-related that may be useful or interesting. One of my favorite things about the Community is the articles and ideas and random conversation-starters that bring us together!
Be respectful. This should be a no-brainer, but it's worth mentioning anyway. We are all in the same boat here, regardless of levels of experience. It's a community of peers, so avoid negativity and respect your fellow users. You don't have to like everything that is said – just be mindful of the difference between a healthy debate and a rude remark.
Get Answers. To me, this is the meat of the Success Community. Are you stumped by some minor configuration detail? Can't get what you want into a report? Have a question about a new feature that you just can't wrap your head around? The answer is here, 99.9% of the time. What I like to do is start on the main Success Community page, and type some keywords into the search bar just below the banner. This will bring up results in every area of the Community.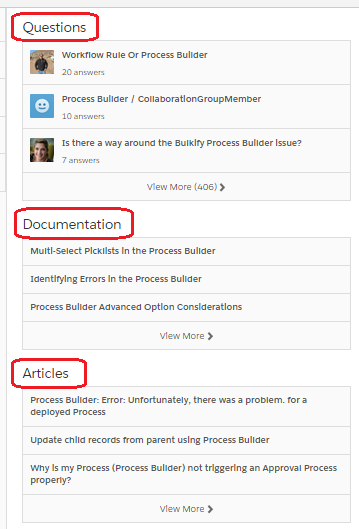 From here, I can decide where to look for the answer I want. Maybe I've already checked Documentation, so Questions is a better place to look. Or maybe these results are giving me the impression that what I want is not possible, so I will check the Ideas to see if it has been requested yet.
You can also post your question on the Answers tab. Tip: Always search for an answer before posting a question. Chances are, someone else has asked it – and you will find that the Community has already responded with a solution!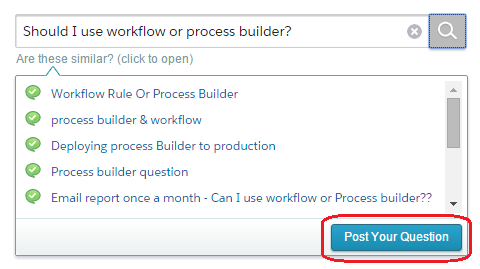 And if you see a question from another user and you know the answer, please jump in and answer it! We will all thank you for it. Most of the people who answer those questions don't get paid to do it, they are just helping out. Every answer from every user is valuable.
Now… get going! Again, make sure to check out the Success Community Corner group's resources for more details on how to interact in the Success Community – they have a video, and excellent documents with even more details to help you out.
Jump in, and enjoy!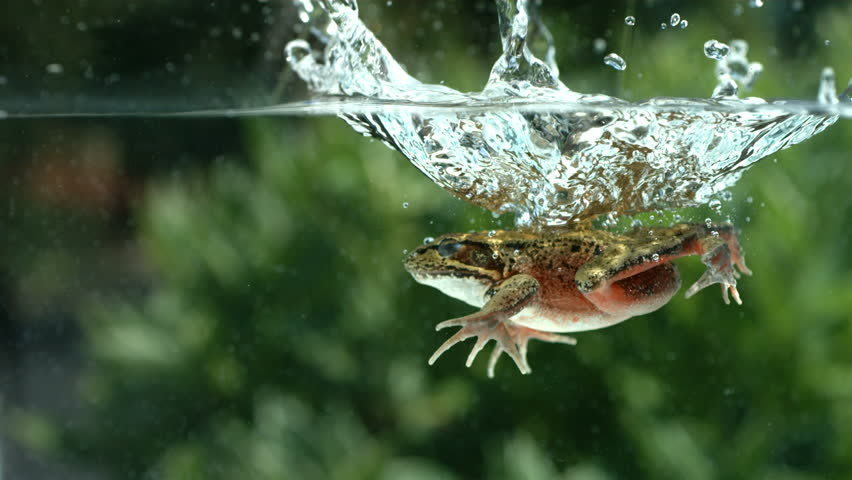 Liked this post? Follow this blog to get more.