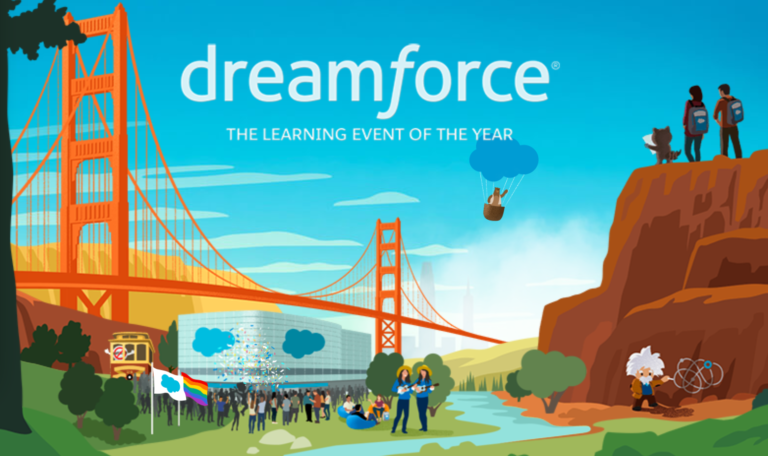 Another year is half over, and all of a sudden I find myself planning for Dreamforce again. This year will be my tenth Dreamforce in a row. It really does sneak up on you, so it's good to be prepared!
But before we get started with the tips, I want to share a handy tool that every Salesforce admin can benefit from. When you have a client who's looking to implement Salesforce Service Cloud, consider using this import tool to migrate their data. It's simple and can help your clients get started with Salesforce much faster.
Now back to the tips on how to get you ready for the biggest event of the year.
1. Register ASAP. Dreamforce registration just recently opened up, but you do not want to put off signing up! It's difficult to get hotels outside of the registration portal (or in it, at this point). And last year, Dreamforce literally reached capacity and sold out – so don't wait too long.
2. Hotel Reservations: Oh, you haven't booked your hotel yet? OUCH. Seriously, this is going to be tricky for you. But it is still possible. Here are a few tactics for getting a hotel somewhere other than Oakland:
Search for hotels several times a day. As people change hotels or cancel their registrations, the rooms that they had reserved will become available again. Have your credit card ready though, because they will disappear just as quickly! September 29th is the cutoff date to cancel Dreamforce registration with a full refund, so the week prior is a great time to be searching. Seriously, that week – do a search every half hour if you can.
Reach out to the All Dreamforce group in the community, and ask if anyone would be willing to share their room – many people have booked hotel rooms with two beds and are fine with roommates.
Look for a room outside of the Dreamforce site. It can be done! Vacation rentals, Airbnb, and many other travel sites will have random available rooms pop up between now and the conference.
3. Join groups and participate in the Community! There are some great groups to join that will keep you updated on all things Dreamforce. The All Dreamforce group is a must. If this is your first Dreamforce, make sure to join the New to Dreamforce group too. There are also groups based on your role and company size. There are fun groups too – whether you will be spending your spare time at the gym or at the parties, there's a group for that!
4. Get on the Road to Dreamforce! The Road to Dreamforce is full of news and tips that will help you get the most out of your trip to Dreamforce. You can sign up for updates here and watch videos and live webcasts here.
5. Add training or certification! On your Dreamforce registration confirmation page, there is a link to add training or add a certification exam. If you've been considering either of these, Dreamforce is the perfect opportunity. The certification exams are half price when taken at Dreamforce as well, so there is no better time. DO IT.
6. Start exploring sessions NOW! The Agenda Builder has not yet gone live – launch date is TBD – but many sessions have already been posted here. As we get closer to agenda builder go-live, you will most likely be able to bookmark your favorite sessions ahead of time (like previous years) for easy reference. Some tips for session registration once the Agenda Builder is live:
Register for as many hands-on trainings (a.k.a. "HOTs") as possible. You can find these by searching "hands-on." These sessions are my favorites because you actually sit at a computer and are walked through the steps of creating/configuring something specific. They are also a great way to try something that you think is over your head or completely foreign to you, because the step-by-step instruction makes it so much easier to grasp. And you have access to the org that used in each hands-on session for 30 days afterward!
As it gets closer to session registration day, pay attention! You will receive an email notification from Dreamforce when session registration is available, but sometimes it's a good idea to log in and check – the sessions go live incrementally, and they fill up quickly. Sometimes they go live at midnight, sometimes at 5:00am.
If too many of the sessions you want have filled up, don't panic! Keep checking for added sessions between the initial go-live and the conference. The Dreamforce team is constantly working to add more to the schedule, and popular sessions will most likely be repeated during the conference.
If you still can't register for a particular session that you absolutely must attend, you can still get in! A number of seats in every session are reserved for walk-ins. Just plan to get there early and wait in line.
7. Be smart about booking your flight. Who doesn't love hanging out at the airport? Oh, you don't? Then LISTEN UP. Keep in mind that the majority of attendees will be scrambling to get to the airport in the early afternoon on the final day of Dreamforce. There is usually a half-day of sessions that day as well, so I always try to leave late in the evening, or stay an extra day and have fun in the city before I go. If you decide to fly out on Thursday afternoon, be prepared for major delays. There were, what, 130,000 people at Dreamforce last year? So… just keep in mind what that could do to airport traffic.
8. Trailhead, Trailhead, Trailhead! There are two Trailhead badges that everyone should get prior to Dreamforce.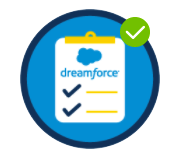 There is a very thorough Dreamforce FAQ which includes contact information, and should answer most of the usual questions and/or concerns. Another great place to get fast answers is the All Dreamforce group in the Community. I will be posting additional preparation tips as the big week draws closer, so stay tuned. Happy planning!