If you have been a Salesforce admin for more than ten minutes, chances are you've heard of Salesforce1.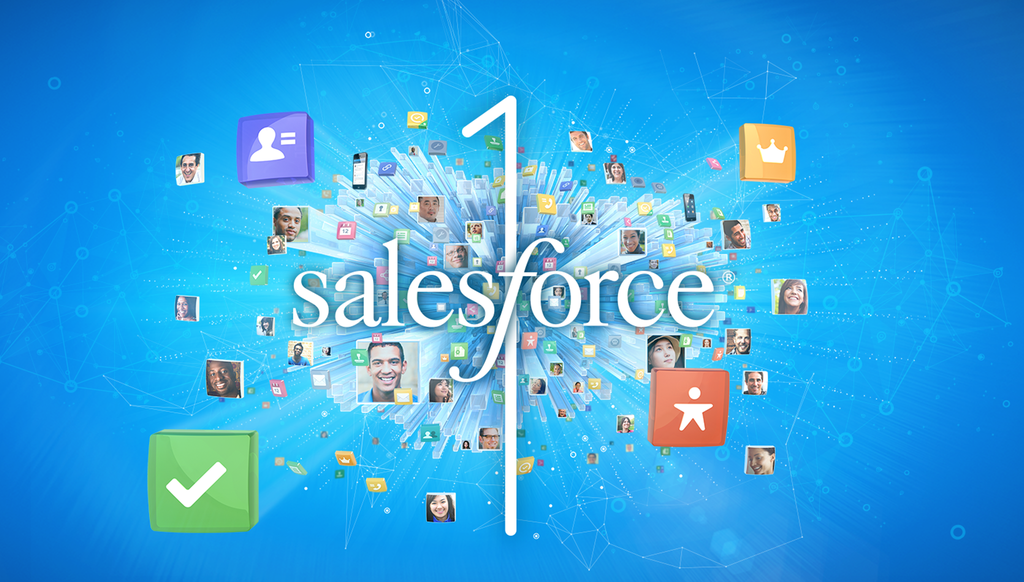 The marketing efforts around Salesforce1 – the mobile app in particular – are tremendous. And naturally, my users have come to me asking about it. So, with the help of documentation and the Success community, I began my quest for Salesforce1 optimization.
Here are my thoughts around some of the capabilities, based on my mobile configuration experience and feedback from my users.
First, the Good:
Cool Stuff in the Settings! In the Settings – Setup | Mobile Administration | Salesforce1 | Settings – you can do the following:

Enable Salesforce1 – This is the first thing you'd want to do.
Enable Account News – Very useful feature for Sales!
Run Duplicate Rules – I recommend this if you are using any duplicate rules. Don't let bad data come in by way of the mobile app! It's too easy to create clutter.
Allow Salesforce1 to import contacts from the mobile device – It is worth noting that this does not automatically import anything into Salesforce from your device. It simply adds an "Import from Device" button to the screen when you create a new contact, allowing you to select from your list of contacts.

Global Actions: These are the same actions that you may have seen in Chatter, such as "Post," "Link," "Poll," etc. If you do not have any global actions in place, you can add them by going here: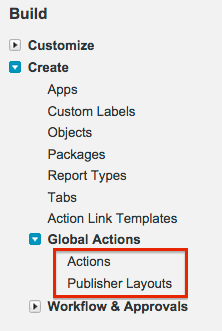 These actions act as shortcuts for creating new records, tasks, events, etc. They are especially useful to mobile users because you can give each action its own layout to display only required fields, in a wonderfully clean view.
Click "Actions" for a list of existing ones – Salesforce provides many default actions that you can use – and from there, you can create new actions or modify layouts. Click "Publisher Layouts" to reorder the actions, or to create separate global actions for different profiles (just like object page layouts). Note: they will be in the same order on both the mobile app and the full Salesforce site.
Navigation: Go to Setup | Mobile Administration | Mobile Navigation to control what is available in the navigation menu of the app. Note: you cannot control the list of objects that is also in the navigation menu – all objects that a user can access will automatically be there. Vote for this idea if you think that we need more control over which tabs are visible.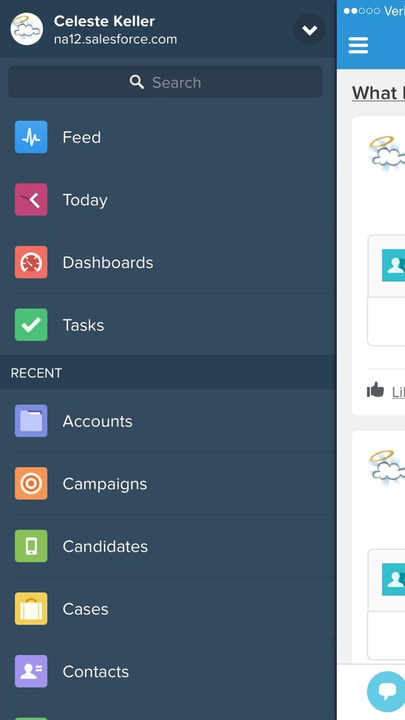 Adoption Reporting: Want to know who has been accessing Salesforce via the mobile app? This handy reporting package will show you. Huzzah! Now I don't have to figure out how to report on it. It's been done for me.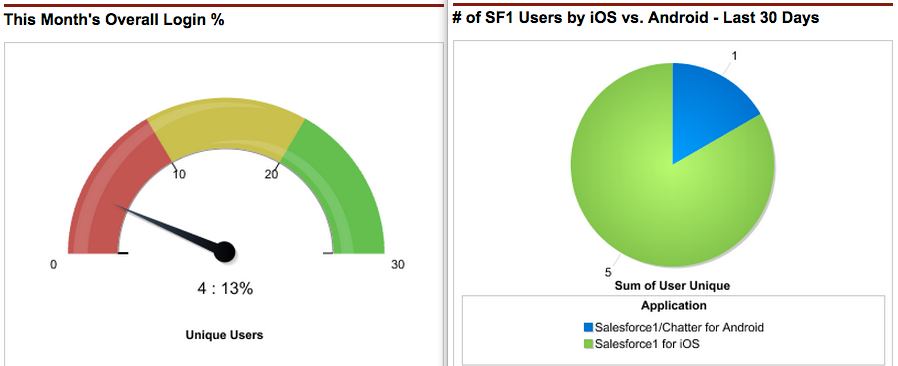 Adoption Manager: This is brand spanking new. I have not even had a chance to try it out yet. However, it sounds like something that would encourage users to use Salesforce1, and also help them use it more efficiently. As admins, we need all the help we can get in that department, so this is on my "good" list even though I have not investigated it fully.
Now the Bad:
It's so PRETTY!
User Interface: I really like the user interface of Salesforce1. It's clean, modern, and easy to navigate. If you are comfortable with apps in general on your phone or tablet, then this one will feel just as intuitive. And my dashboards look great!
Company Branding: What a great feature! You can go to Setup | Mobile Administration | Salesforce1 | Branding and upload company logos and set a color scheme. Very slick. Marketing will love you for it, and so will upper management.
My Conclusions:
This was a fun learning experience! Salesforce1 provides a way for my users to quickly edit and create records from anywhere. I have no doubt that Salesforce will continue to improve the mobile experience in upcoming releases, and I will let users know what they can do within the app. But I will also let them know what it cannot do, just so they are aware of its limitations. The things on my "bad" list severely impact most of my users, so I really hope that someday the mobile app has more functionality. Vote up those ideas!
And thanks to my fellow admins for posting these ideas on the IdeaExchange – keep it up! One of the best things about Salesforce is the way they use customer ideas in their product roadmap. The more we ask for them, the more improvements we will see.
Liked this post? Follow this blog to get more.